Music Copyright Society of Kenya CEO Ezekiel Mutua and Royal Media Service Editorial Director Linus Kaikai clashed on Social Media over a feature being run on Citizen TV. 
It started when Mutua castigated the story dubbed Jane and Solomon which revisits the murder of a high school principal whose wife was found guilty of the offence.
Reacting to the story, Mutua opined that it had no substance. 
"This Jane and Solomon story on Citizen TV is a scam. Much ado about nothing," he tweeted
The tweet seemingly irked Kaikai who fired back at Mutua saying:
"Well Ezekiel Mutua, if for nothing else, a scam is watching another."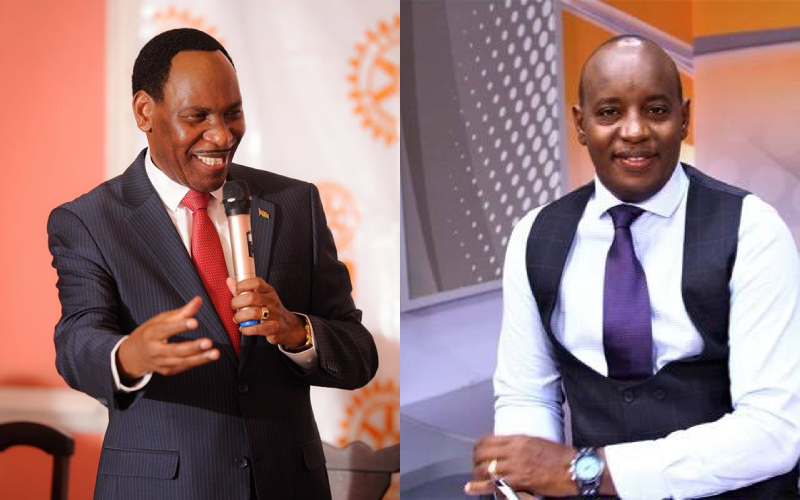 It did not end there. Mutua fired back at Kaikai yet again accusing him of disregarding a genuine concern from a viewer of his news product.
He termed his response as disappointing even as he fired another salvo at him.
"Juvenile and despicable but quite understandable being a "Viusasa' response to a viewer's comment," Mutua said in a rejoinder.
Their clash roped in Kenyans who weighed in with mixed reactions.
The Jane and Solomon Story was produced by Royal Media Services Managing Director Wachira Waruru.
The series has been running since Sunday unpacking the events that led to the death of Kiiru Boys High School Principal Solomon.
It also features his wife Jane, who at the time was also a principal at a school in Murang'a County.
Here are some reactions from Kenyans;