Gone are the days when the Nigerian movie industry was the 'ish'. During those days hardly would you find Ghanaians watching the so-called Hollywood movies. The patronage of Nigerian movies so high such that one could only get a copy by renting them.
OMGVoice.com recounts the top five scariest Nigerian movies that caused Ghanaians to wet their pants and have sleepless nights.
1. Egg Of Life 
The famous Nigerian movie starring Pete Edochie was a masterstroke. The story hovers around a chief priestess who tried to unravel the mystery behind a death. One could hardly sleep after watching this movie.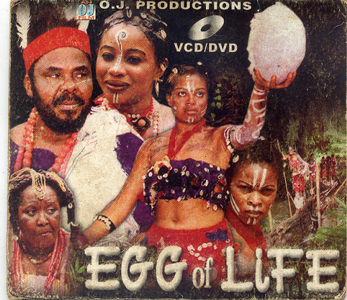 2. Billionaires Club
Another occult movie. The billionaires were in a secret society where they made blood money. All the major blood money actors were in there!
3. The Last Burial 
This was one of the scariest movies on the planet at that time. My goodness! Nothing could be scarier than seeing men in coffin with cottons in their nostrils all for the sake of money.
4. Karishika
"Karishika Karishika, Queen of demons…" If you don't chant that phrase, you aren't old enough to be reading this article!! The movie was about the demon queen, Karishika being sent by Lucifer to tempt more people into sin.
5. Blood Money 
Damn, this movie was terrifying and mind boggling. Remember the part where a boy turned into a chicken after he picked up money from the floor and was carried away for rituals? Parents used that scene to scare their children not to pick money from the floor or collect anything from strangers. Kanayo. O. Kanayo really played the bad man well in this movie.